Day Trips
Have some extra time while staying at the Lopez Islander Resort. Consider taking a day trip from the Lopez Islander Resort to any of the following islands in the San Juan Islands. Leave the card behind at the resort until your retun and have the Islander Shuttle take you to and from the ferry landing for a fee.
Friday Harbor & San Juan Island

Take a day trip to Friday Harbor where you can find shops, restaurants, galleries, and a movie theater! The ferry dock is at the foot of Spring Street (left), the main drag in Friday Harbor. There are many things to do within easy walking distance of the ferry landing. Or you can take your car and explore San Juan Island's many parks and historical sites.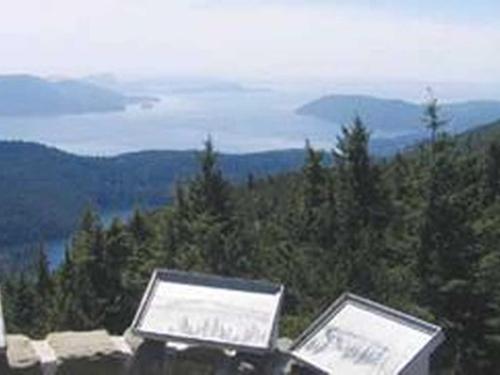 Orcas Island

Or take a day trip to Orcas Island. You can walk onto the ferry and take the Orcas shuttle from the ferry into Eastsound to visit shops. Or you can take your car and explore Orcas Island - go to the top of Mount Consitution to see a fabulous view (right)- you can even see Mount Rainier on a clear day! Hike around Cascade Lake in Moran State Park. Visit the quaint town of Olga, hike Turtleback Mountain, and much more.
Shaw Island

Get away from it all with a trip to Shaw Island. You can get there by kayak or ferry. Walk on the ferry with your bike and ride around this beautiful, tranquil island. There is a general store with coffee and deli at the ferry landing, but that's the only commercial business on the island so be prepared. There's a great county park with beach access and nearby trails to hike.